Featured blogger- Spindizzyfall
02:24:00
Lots of my inspiration comes from fellow bloggers. Also from nature, old rockstars like john lennon and stevie nicks.
Who has had the biggest fashon influence on your outfits ?
As said in the last question i love getting ideas and inspiration from Fashion bloggers all around the globe
What made you start posting your pictures on chictopia ?
I first noticed chictopia through other bloggers and found it was such a great site because everyone is so positive and lovely.
What blogs and websites do you follow and why ?


I like to follow a lot of different blogs; from experienced bloggers to brand new bloggers (to watch them transform and improve their blogs). Everyone has different take on style and thats what makes fashion so interesting.
Would you describe yourself as a trendsetter or fashion follower ?
I wouldn't say I'm a trendsetter but i do like to pick up new ideas and dress the way i think looks best.
Does the hosiery you wear dictate the clothes,outfit you wear ?
Hmm yes sometimes. I love tights so sometimes i think 'Yes i want to wear those today' so then i'll choose an outfit to suit them
What is in your hosiery drawer or closet ?
Everything from vintage silk tights to floral net tights. I like different colours and my favourite coloured tights right now are my dark berry tights
How do you choose your hosiery ?


If i see an outfit that inspires me i think tights are a great way to create that look because they are not too expensive but are always pretty
Where do you shop for hoseiry ?


Online, vintage stores or 'sock shops'
What was the last item of hosiery you brought, how much you spent etc ?
The last tights i bought were my spotty tights off ebay for a great price of $8
Do you prefer sheer or opaque tights,stockings or holdups,socks or kneehighs,sheer toe or reinforced ?
At the moment i like sheer patterned tights. I also love knee high tights
How does wearing tights make you feel ? More feminine,better with girly outfits not thought about it ?
I think tights can make an outfit more girly but can also add an edge to a basic black outfit. They keep me warm too =)
Do you physically like the feel of tights and touch ? Do your legs ache less, prefer than pants ? not thought about it ?
I love tights because they are way more comfortable than jeans and pants and i love the feel against me skin
When do you wear hosiery,daily-once a week etc ?
What is your hosiery staple ?
Right now i love my spotty tights and my floral net tights from 'falke'
What are your style tips for wearing tights ?
Tights can add so much to an outfit so just have fun and don't be afraid to wear coloured tights every now and again
How do you put on tights?
just pull them straight on =) but carefully!
Do you keep a spare pair of tights in your bag ?
The best and worst things about hosiery, Love-hate ?
Keeps me stylish and warm! And you have to be very careful when wearing lots of rings so they don't snag
Do you recycle your tights ?
not that i can think of. ?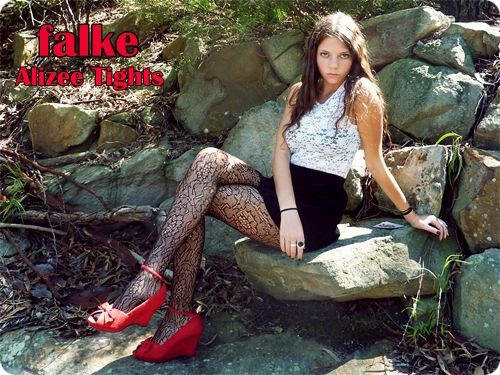 The lovely ladies from Falke have sent me these Alizee Tights and I am smitten! Sorry to give away the ending already but I can't help it! I'm in love.
The Alizee tights are the softest and most comfortable tights I've ever worn. They are so detailed and beautiful, the other stockings in my drawer are getting jealous! Anyway, enough of my loving worship, here's the review!
Item type:
Tights/Stockings
Material:
Material composition - 91% Polyamide, 8% Elastane, 1% Cotton
Colour:
Black (also available in Brenda-Brown and Opal- Blue)
Short Description:
Must have stylish, intricate lace tights featuring a large intertwining floral pattern. Comfort waistband and soft seam toe, ensuring all over comfort.
Feeling when wearing:
The tights are so soft and delicate, I feel like a queen. An enchanting, seductive queen that is.
Best climate:
Autumn and winter of course (even suitable for spring)! You'll definitely see these more than once on me this winter.
Where to wear:
Fancy tea parties, classy dinner dates or casual but elegant days in the city! Wear these when you want to feel special.
Would look great with:
Lovely mini skirts or flowy dresses. Also look fab layered with ankle socks and sandal heels.
Tips:
Be careful with these babies, you'll want to keep them for a very long time and you wouldn't want to catch your rings on them. Lace tights are classic and will always be chic.
Price:
$79.AUS
Website/Store:
https://falke.com.au/